Sandestin Baytowne Wharf Condos for Sale
---
Discover the latest condos for sale in the Village of Baytowne Wharf in the Sandestin Golf & Beach Resort of Miramar Beach, FL. If you love the buzz of a bustling downtown with a unique New Orleans twist, Sandestin's Village of Baytowne Wharf should be on your real estate watchlist. This energetic town is the heartbeat of Sandestin, offering residents and visitors a fantastic selection of eateries, boutiques, arcades, ziplines, galleries, a marina, and residences to explore. With so much to do and see, you'll never run out of things to experience in Baytowne Wharf. Read More
Current Village of Baytowne Wharf Condos, Sandestin FL
Focus your search on the nine condominiums associations that comprise the Village.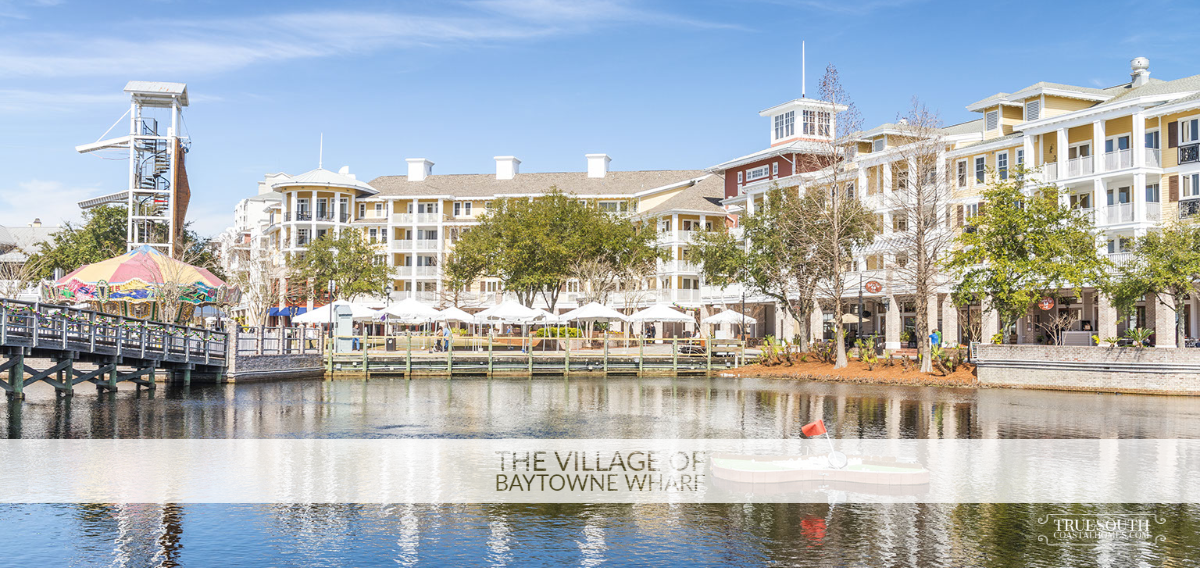 Sandestin's real estate inventory remains low, and the market is still competitive. Gain the edge by joining our Market Hotlist to be notified instantly when new Sandestin property hits the market.
Sandestin Baytowne Wharf Condos
Sandestin Baytowne Wharf Condos for Sale
September 21, 2023
Sandestin Baytowne Wharf Condos for Sale by Price
Village of Baytowne Wharf Relocation Guide
If you appreciate the hustle and bustle of a downtown area with a New Orleans-inspired vibe, then the Village of Baytowne Wharf in Sandestin is the perfect destination for you! Known as the "heart of Sandestin," this charming village offers a plethora of dining options, unique boutiques, exciting arcades, exquisite galleries, a well-equipped marina, and upscale condominiums. You'll never get bored in this vibrant community, which hosts regular seasonal outdoor events featuring live music, ice skating, and fireworks. Furthermore, it's a pet-friendly environment that warmly welcomes furry companions to partake in the fun.
Join in the Festivities of Baytowne Wharf
The Village of Baytowne Wharf in Sandestin is known for hosting a variety of outdoor events throughout the year. Visitors can enjoy live music performances, fireworks shows, outdoor movie screenings, and much more. If you're a dog lover, the local "Mardi-paws" parade with costumed dogs and decked-out golf carts is an event that you wouldn't want to miss. A popular local attraction is the seasonal ice skating on a real ice rink in the heart of the village. It's a great way to get into the winter spirit and experience some classic cold-weather fun in Florida.
The Village also hosts several annual festivals, including the Baytowne Wharf Beer Fest, the Baytowne Art Walk, and the Baytowne Wharf 4th of July Celebration. These events feature a range of activities, from craft beer tastings and art exhibits to live music performances and spectacular fireworks displays.
If you are wanting to enjoy a laidback night out, head to the new Dude & Meatballs for a craft beer or a glass of wine, savor some Italian meatballs, and hang out with new friends! The staff is friendly and welcoming, and they always go the extra mile to make sure you have a good experience. The Village of Baytowne Wharf is a food lover's paradise, boasting an impressive array of dining options to suit any taste and budget.
No matter what time of year you visit, there's always something fun and exciting happening in the Village of Baytowne Wharf. So check out their event calendar and plan your trip accordingly to make the most of your visit!
Discover the Best of Sandestin's Baytowne Wharf
With a multitude of exciting activities to engage in and an atmosphere that's nothing short of electric, the Village of Baytowne Wharf is a destination that's not to be missed. From its excellent eateries to its trendy boutiques, arcade games, and galleries, this village has everything you need to experience a downtown New Orleans-inspired haven. So what are you waiting for? Pack your bags, head to Sandestin, and discover the best of the Village of Baytowne Wharf today!
Good news for those who want to visit the Village of Baytowne Wharf in Sandestin - it's completely free and open to the public! Although Sandestin is a private gated community, visitors are welcome to come and experience all the entertainment, restaurants, and shops that the resort has to offer.

To gain access, simply let the security gate know where you're headed, and they'll be more than happy to provide you with a windshield pass and give you directions to the Village. It's that easy!
Investing in Baytowne Condos for Sale
If you're considering investing in property, condos in the Village of Baytowne Wharf can be an excellent opportunity. This vibrant community is a sought-after destination for both tourists and residents, thanks to its prime location, variety of amenities, and wide range of dining and entertainment options.
The Village's proximity to the Baytowne Conference Center, Sandestin Hilton, the new Hotel Effie, and resort access to the beach make it an attractive investment opportunity due to additional off-season business travelers. In addition, the area's strong rental market and potential for appreciation can make condos in the Village a smart long-term investment.
Of course, like any investment, it's important to do your due diligence and research the market before making a purchase. But if you're looking for a place that offers both a great location and a fun, vibrant atmosphere, the Village of Baytowne Wharf is definitely worth considering.
Click here for driving directions: 9300 Baytowne Wharf Blvd, Miramar Beach, FL 32550.
Additional Baytowne Information
What to do in Baytowne — Baytowne Events Calendar
Village of Baytowne Map — Map of Village
Wikipedia

—

Sandestin, FL
Association Fees

—

Owners in the Village pay quarterly assessments of $405.05 to the Sandestin Owners Association and $256.56 to the Baytowne Wharf Neighborhood Association in 2022. This does not include individual condo assessments.
*All information provided is deemed reliable but is not guaranteed accurate. Users should confirm accuracy.
---
We are your TRUE local Emerald Coast & 30A real estate experts. Our team can show you any property you find and give you all the info you need, including disclosures, sales history, and local market data.
We are also window-shopper friendly! Who doesn't love to look at houses? Be confident we're not here to pressure you into working with us; you may update your contact preferences anytime. However, registering an account with us allows you to personalize your searches and receive timely status and price change notifications.
Browse Sandestin Bayside Condos
Browse Sandestin Beachside Condos
Consult a True local real estate expert from TrueSouthCoastalHomes.com at
(404) 395-4381
. We specialize in the coastal communities on Florida's Emerald Coast from 30A to Destin and Niceville to Freeport. We are committed to your 5-star experience and finding the perfect home matching your wishes and needs.
Sandestin Videos Sandestin Community Highlight Video | Miramar Beach, FL
Sandestin homes are a fabulous beach getaway for many and a full-time lifestyle for others! Sandestin Golf & Beach Resort is a fantastic 2,400-acre property that spans between the Gulf of Mexico and the Choctawhatchee Bay and enjoys some of the most beautiful sugar-white sand beaches in the world. If you love boating, fishings, golf, tennis, and eating, you will love exploring the Sandestin Golf & Beach Resort in Miramar Beach, FL. Sandestin Resort
In this video, we show Sandestin Golf and Beach Resort in Florida. Unlike a hotel, this 2,400-acre resort's collection of over 1,250 vacation rentals includes an enticing array of options. You also have four resort areas to choose from including Beachside, Bayside, Lakeside and the Village stretching from our postcard-perfect beach to tranquil Choctawhatchee Bay. They were named the #1 resort on Florida's Emerald Coast and the best resort in South Walton.