Grayton Beach Homes For Sale
December 8, 2022
$1,674,000
Med. List Price
Grayton Beach Guide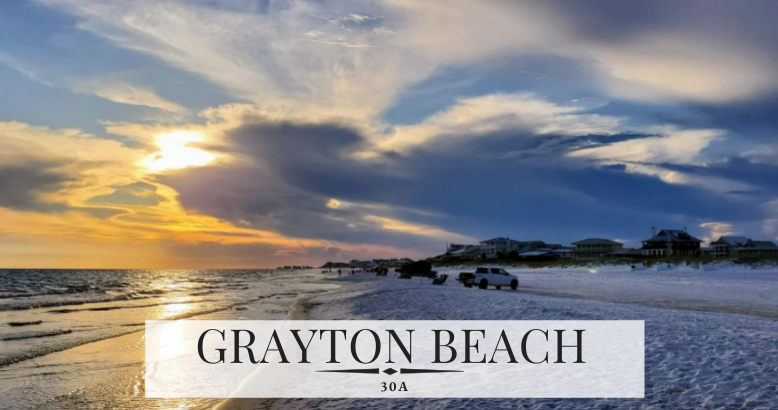 Artistic Grayton Beach Homes
Grayton Beach is a small coastal town in South Walton County, Florida, founded in 1890. The town of Grayton Beach is known for its artsy, laid-back atmosphere that attracts various people. Grayton homes are the ideal location for those looking to escape from modern-day stress as it allows you to get away from it all. In addition, creative businesses thrive here, making it one of the best places to live or visit if you love creativity.
Grayton Beach is a breathtaking, white sand 30A community, where successful creatives have set the stage for an amusing lifestyle. The area is a syncopated beach town with a free-thinking community.
This is why you'll find "Nice Dogs, Strange People" conveniently stated at the beach entrance. The sign guides people to think individualistically and is a well-known place to escape the busyness of the world.
Grayton Beach Neighborhoods
Sugar White Sand
Speaking of the beach, Grayton is full of sugar-white sand and sandy soil, which is why it was untouched for the first century of its founding. Thanks to this history, the community values preservation, architecture, and a laid-back lifestyle.
The water is so clear and warm that you might just want to dive in. The beach life is relaxing--as it should be, no matter what time of year it is. Swim or fish off the Grayton Beach fishing charters, also known by locals as the "Mosquito Fleet." Or stroll along the sand watching families having fun where the Western Lake meets the Gulf, sometimes opening and exchanging salt and fresh water. Wildlife and fish are outstanding if you choose to venture out in one of the many boats that load right from the beach. Grayton Beach real estate offers the perfect mixture of community and privacy. In fact, you'll find that you will practically have the beach to yourself compared to other beaches. Grayton Beach provides a quiet place where residents can take advantage of the natural beauty of their surroundings while living within the comforts of nearby shopping and entertainment options, including fine dining.
Grayton Beach is a community that has many great things to offer. The local beach is one of them, so there is no need to travel far to enjoy the sand and sunshine. The Grayton Dunes Access is ADA accessible, has freshwater showers, and parking on the street. With less parking, there are hardly any people on the beach, making it most accessible for Grayton homeowners. Located at the end of Garfield Street behind the Red Bar in the heart of Grayton Beach.
Arguably The Most Laid-Back Location In South Walton
The entire community of Grayton Beach is a place where art and history come alive. Thanks to the artistic community, visitors can view art everywhere they look. Many unique shops feature everything from handmade clothing and creative jewelry to one-of-a-kind home décor items perfect for anyone trying to escape the usual American lifestyle. For those looking for more than just shopping, there are plenty of things to do in Grayton Beach. Freestanding houses make up most of the housing options in the area. The dining options are as unique as the community. You'll never get bored while staying here since they frequently introduce new dishes on their menus!
Grayton home locals describe the beach as the heartbeat of 30A, and many argue it's the beginning! This genuine, artsy, funky, and exciting community offers more modern beach homes. Grayton home architecture offers a beach vibe with a modern twist. Grayton homes are truly an experience along 30A. With the luxury of Grayton homes and the laid-back community, you get the best of both worlds. Currently, Grayton homes are listed at a median price of $3.25M.
The Best Place To Make Your Own Path
Here's what you will love about it:
Grayton is a community of creative people who are dynamic, fun, and always open to new experiences. While Grayton Homes have plenty of structure, there are no societal rules to force you into someone you aren't in the community. Instead, this magnetic creative community is centered around individuality and fulfillment.
Here are some of the places you will find yourself visiting:
Grayton Beach State Park
Escape the world with a stroll through Grayton Beach State Park. This beautiful trail connects you to more than 3 miles of white sand and clear blue water. Often, it's not even necessary to leave this beach nature trail to find the solitude you seek; as you walk, you'll pass little more than tall grasses, sandy dunes, and sea oats. The beach is so peaceful on its own that sometimes it feels like no one else is around—especially in off-season months when crowds are smaller.
Western Lake - Coastal Dune Lakes
Coastal Dune Lakes are rare phenomena that only reside in certain locations. One of the most attractive things about Grayton homes is that Coastal Dune Lakes are located right in South Walton and are one of Florida's treasures. These coastal dune lakes are around 10,000 years old and are formed by winds that redistribute sand and create shallow divots. It's a rare sight that you don't want to miss! You can canoe, kayak, or even paddleboard in this beautiful lake along 30A!
Chanticleer Eatery
Get ready to enjoy the best food and people around. If you love grilled cheese, you won't find ANY better choice than the Chanticleer Eatery. Tip: You can order one during lunch! Chanticleer Eatery is a must-visit restaurant in Grayton Beach, just north of 30A. Come by for lunch and dinner and get your mouthwatering fix of their famous burgers, ribeyes, and jambalaya. Or come in on Monday evenings for their half-priced wine bottles during happy hour.
The Red Bar
Enjoy a drink and a meal here at this 30A mouthwatering relaxation magnet. With a highly decorative lounge and fantastic jazz band, The Red Bar is known for its incredible Bloody Mary and is a beloved location by all who live in Grayton homes. After a recent fire, the Red Bar was rebuilt and renovated with impeccable design.
Grayton Beer Company
Grayton Beer Company is said to be "A Way to Life" by the Grayton home residents. Grayton Beer Company's core values reflect the town itself — coastal, relaxed, and always evolving. Producing quality beer while embracing community living has been their goal since day one. They have created memorable experiences through their craft beer and lifestyle brand. This place encourages you to slow down, relax, and be where you are. What more could you ask for?
Grayton Seafood Co.
This restaurant's friendly and welcoming staff will make you feel at home. It's a perfect stop after fishing in the area, and the wildly popular team knows how to wow diners with their mind-blowing menu. Grayton Seafood is a MUST in the area.
The Shard Shop
The Shard shop takes art to a new level. Their team is filled with artists who are constantly creating unique works of art that make beautiful and usable pieces of glass. In addition, they offer classes, parties, and events for the community because they believe everyone needs to mingle and have fun with their neighbors! Everyone along 30A loves this place.
As a small town along 30A, Grayton Beach is all about community, and Grayton homes represent the same feel. The people who live here have a deep love for Grayton Homes and the beach surrounding them. You will never find another place quite like Grayton Beach. The town's history, architecture, and the people who call it home are unlike anywhere else in South Walton County. You will feel at home in this quaint community when you see everything that makes it so unique – from the wide-range beach to its signature artistic value. After spending time here, you'll never want to leave.
"Nice Dogs, Strange People"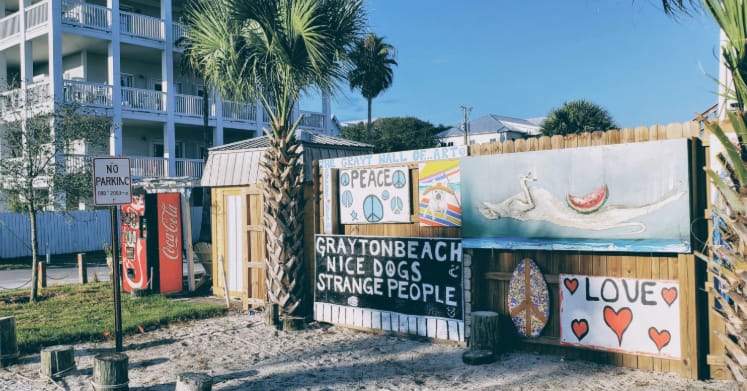 South Walton Map
Schools
Grocery Stores
Frequently Asked Questions About Grayton Beach
Are dogs allowed on the beach?
In 2022, dogs are allowed on the beach beginning August 1st and July 31st each year between 3:30 PM and 8:30 AM with a permit.
Click here to submit an application for a dog permit.
Don't forget to like us on Facebook, and while you're there, subscribe to our True South Coastal Homes Newsletter, as we're excited to bring you information about the area we call home.
If you're considering making the Emerald Coast your home or buying a 30A vacation home, or investment property, we would love to assist you. Please send us a message or visit our neighborhood pages on TrueSouthCoastalHomes.com to begin the search for your perfect property.
Grayton Beach Listings | Grayton Beach Homes | Grayton Beach Condos | Grayton Beach Vacant Lots | Grayton Beach New Construction | Sold Listings | 30A Gulf Front Beach Homes | 30A Foreclosures | About Grayton Beach
*All information provided is deemed reliable but is not guaranteed accurate. Users should confirm accuracy.
---
Contact Us About Grayton Beach
Call a True local real estate expert from TrueSouthCoastalHomes.com at
(404) 395-4381
. We specialize in the coastal communities on Florida's Emerald Coast from 30A to Destin and Niceville. We are committed to your 5-star experience and finding you the perfect home that matches your list of wishes and needs.