WaterColor Florida: A Home That Lives Up To Its Name
Posted by Kim Bauman on Tuesday, May 10, 2022 at 4:14 PM
By Kim Bauman / May 10, 2022
1 Comment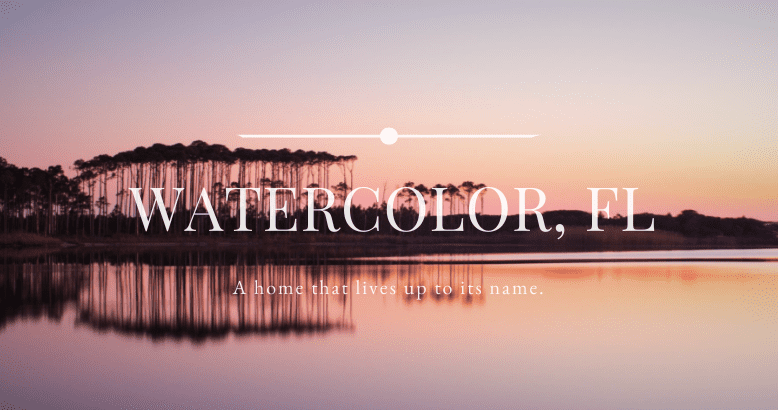 Imagine a community of elegant homes surrounded on three sides by lush greenery. It already sounds beautiful, right? Now imagine that the fourth side is a pristine beach, soft white sand glistening in the rays of the Florida sun. Now that sounds like paradise. Even this is not the full extent of what this magical place has to offer. A beautiful downtown area and the nearby Grayton Beach State Park and Western Lake all add to the appeal of this picturesque community. If this feels like the kind of place where you'd love to own a home, you're not alone. There's a reason why the Florida panhandle, especially the area along Scenic Highway 30A, is becoming known as one of the best places in America to live. WaterColor might be the most beautiful out of all the communities here. Taking a look at WaterColor homes for sale might be the most fulfilling thing you do this year.
In the Heart of the Florida Panhandle
Nestled against the beautiful Gulf of Mexico, WaterColor sits alongside Scenic Highway 30A. This 500-acre thriving community sits in South Walton and truly embodies the beauty of the Florida panhandle. Bordering the town of Seaside, WaterColor is just a short trip from both Grayton Beach and Western Lake. It can be hard to find a place that has this much diversity of landscapes. There are a lot of beaches out there, but how many have coastal forests, lakes, parks, and gardens all within walking distance? With such a wide variety of scenery to be found in a single place, WaterColor is not just a one-trick pony.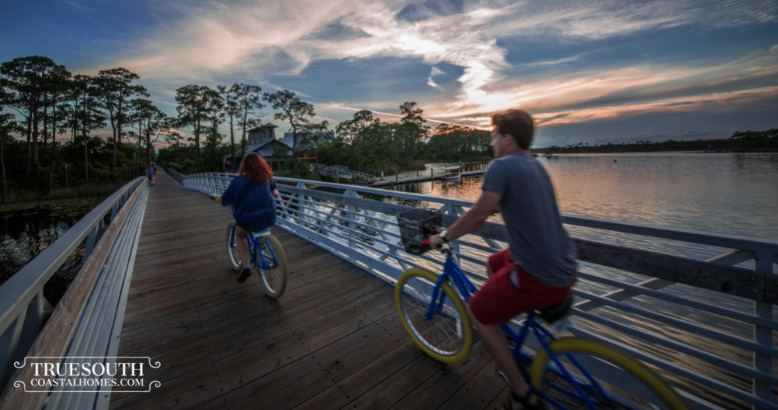 Natural Beauty Abounds
WaterColor itself has 1500 meters of beach frontage. Nearby you can also find Seaside, Santa Rosa Beach, and Rosemary Beach. With all this pristine beachfront, you have plenty of options for spots to park your beach towel. It all depends on what kind of beach experience you enjoy. When you think of the beach, do you picture throngs of people splashing in the water, playing beach volleyball, and surfing? WaterColor has you covered. Maybe you picture a secluded nook where you can lay out a blanket and get a tan while reading a good book. WaterColor has that too.
While the beaches might be the main attraction in the area, WaterColor actually provides a very diverse landscape. Branching out from the community itself is a beautiful coastal forest of oaks, pines, magnolias, cypresses, and palmettos.
Sun, Sun, and More Sun
It almost goes without saying that the weather is ideal for most of the year. Who doesn't love an abundance of clear sunny days and a short winter season? T-shirts, shorts, and sandals are acceptable to wear for most of the year, and even in the coolest months, the biggest worry is whether a dip in the ocean might be a little more chilly than usual. How does an average temperature of sixty-eight degrees sound? There's a reason why so many people retire in Florida. That said, why wait until you're retired to enjoy beautiful weather all year?
What to Do in WaterColor
The benefit of a planned community like WaterColor is…it's planned! Every detail has been designed to help make WaterColor the perfect place to live. The landscaping is breathtaking. The downtown area is perfectly laid out to maximize strolling enjoyment. The beaches are close, making it convenient to hit the sand day after day. Small parks and gardens are spotted throughout the community, ensuring there is beautiful greenery wherever you go. Most people could spend their whole lives on the beach, which is certainly an option here. However, there are so many more ways to spend a day here for those who like a little variety.
Go Window Shopping at Seaside
The downtown square of Seaside is located just a half-mile from WaterColor. Take a romantic walk through the downtown area and visit a few of the quaint little shops to see if anything strikes your fancy.
Visit Western Lake
Western Lake sits between WaterColor and Grayton Beach. It's one of the largest coastal dune lakes, and there's plenty to see and do there. A boat launch is available, but kayak and canoe rentals also help get you on the water even if you're not a boater. For the more adventurous, water skiing is always an option. If you like an activity with a slower pace, Western Lake fishing is just the thing.
Enjoy Grayton Beach
This beautiful Grayton Beach is ranked as one of the top beaches in the country year after year. However, there's a lot more to this place than just a stretch of sand. Grayton Beach State Park also features over four miles of trails winding through a statuesque coastal forest. Scrub oaks and magnolia trees are dominant here, providing both the backdrop for a beautiful hike and comforting shade.
Make the Most of the Waterfront
Not all beaches are created equal. How much nicer is it to sip your cocktail when you've got a chair and umbrella set up to give you respite from the sun? How much better is nighttime on the beach with a bonfire blazing nearby? WaterColor has it all.
Get on a Board
WaterColor has surfing and boogie boarding because…of course, it does. What sort of beach paradise is complete without the thrill of getting on a surfboard and shredding some waves?
Hit the Links
Some of the most beautiful golf courses in the country are located along the scenic 30A highway. With ten golf courses nearby and warm weather year-round, a day on the fairway (hopefully) is an option any month of the year.
Visit Cerulean Park
The small-town feel of WaterColor already makes it something of a hidden gem, but for residents looking for an even more serene getaway, there's Cerulean Park. Located right in the heart of WaterColor, this park is a beautiful spot for hiking, biking, jogging, or a family gathering. A beautiful fountain, tropical flowers, and monarch butterflies make this a great spot to spend a weekend.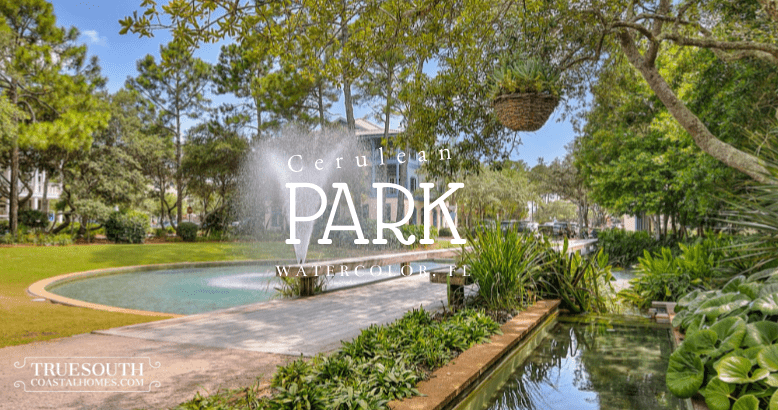 Even talking about these great activities is just scratching the surface of everything WaterColor has to offer. Attend the yearly two-night outdoor film festival. Experience the finely curated offerings of the Harvest Wine & Food Festival. Whatever types of activities you enjoy, you'll never find yourself without something to do in WaterColor.
The 7th Annual Harvest Wine & Food Festival in WaterColor, FL is on Oct 19-13, 2023. Tickets will go on sale in July. Past events have sold out. You will want to be quick!
There's Just Something About the South
WaterColor is a great place to vacation. Anyone would be thrilled to spend a week basking on the beautiful beaches here. The problem with vacations is that they end. Why only spend a week in such a beautiful place? How amazing would it be to wake up every single day in paradise?
Homes in WaterColor are based on the vernacular of Southern architecture with columns, porches, and metal rooves. The entire community oozes Southern charm, with everything from the downtown area to the homes designed to retain that charming small-town feel. Wraparound porches are perfect for BBQ, entertaining, or even just sitting and enjoying a sunset.
The community itself also has all the amenities you could ask for as a homeowner or guest. WaterColor Beach Club is a shared amenity and a great place to relax and enjoy views of the Gulf of Mexico. Several swimming pools provide a great place to exercise or just cool off in the summer. Tennis courts and fitness centers are available to help keep you in swimsuit shape. The WaterColor community strives to show off the beauty of the natural world, with parks, gardens, and long swaths of green lawn dotted throughout the area. WaterColor has even been recognized for its gorgeous design, receiving the Award for Excellence from the Urban Land Institute.
Shopping, Dining, and More
The Gulf of Mexico features some of the best seafood on the planet, and local restaurants are taking the ocean's bounty and turning it into culinary masterpieces for local residents. There are countless great eats in the area, but it's worth taking a look at a few of the standouts:
FOOW (Fish Out Of Water)
This beautiful family-style restaurant and bar are located in the four-star WaterColor Inn. With a view overlooking the Gulf Coast, this is an excellent spot for a night out with the family or a romantic dinner for two. A menu showcasing the fresh seafood of the neighboring Gulf ranges from succulent shrimp to seared swordfish, and the cocktail menu is a cut above your standard fare.
Great Southern Cafe
James Beard recognized chef Jim Shirley heads this spot that aims to meld Southern cooking with the aquatic harvest of the Gulf. Cajun-leaning entrees make up the bulk of the menu, but lobster tails and amazing steaks are still great options for those who can't handle the spice. An extensive wine list and a full bar ensure that mom and dad have everything they need for a perfect night out. Their Key Lime Pie may be the best in Florida.
Beach Camp Brewpub
Tap into a local's favorite at Beach Camp Brewpub, where over twenty handcrafted brews share menu space with burgers, upscale appetizers, and some inspired locally caught seafood entrees. Be sure to try a refreshing 30A Beach Blonde Ale. Be on the lookout as Alex Postelnek, lead brewer, serve up new local options.
There are also tons of great shops to visit in town.

Try:
The Blue Giraffe
This amazing little spot is all about unique pieces. Handcrafted furniture, art, and jewelry fill the space, and it's hard to leave without finding something that catches your eye.
Old Florida Outfitters
This local institution is popular with those who enjoy fishing. All sorts of outdoor gear are available here, with a particular emphasis on fly fishing gear. The Gulf and a few of the nearby lakes are great for fishing, so this spot is a great place to get started if you're looking to take up a new hobby.
Wine World
Sure, there are a ton of great dining options in WaterColor, but cooking at home and opening a great bottle of wine is nice too. For these nights, Wine World has got your back. A vast selection of wines ensures you'll find whatever you're looking for. There's also a great wine bar and restaurant attached, so don't think you have to cook at home to enjoy the spoils of a Wine World outing.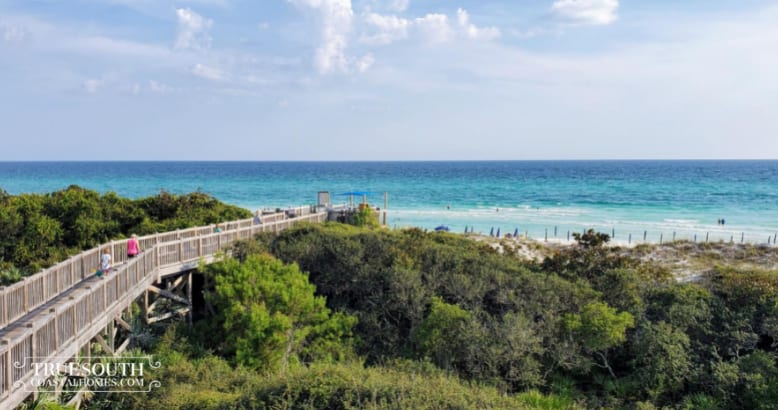 Live the Vacation
There are so many reasons why WaterColor is a great place to visit, but there are even more reasons why it's a great place to live. There are WaterColor homes for sale, but current trends show us that this may not always be the case. Beach homes in communities like WaterColor are becoming harder and harder to find for a number of reasons.
With so many companies shifting to work-from-home models, more people now have the freedom to move away from major cities and keep their same job. With the freedom to now work from anywhere, places that were once thought of as vacation destinations are now becoming popular places to live.
The urban communities along Scenic Highway 30A have continually seen a year-over-year rise in tourism revenue. As the popularity of a travel destination like WaterColor increases, the amount of people who fall in love with the place and decide to move there also increases. This, in turn, leads to a limited supply of WaterColor homes for sale.
WaterColor may not yet be known as the Maldives of the Southern Coast…but it should be. The homes and shops exude Southern charm. Tracts of soft white sand soak up the footprints of running children. Gourmet restaurants plate and pour offerings for even the most discerning palates. One look at this place, pretty as a painting, and it's easy to see why they named it WaterColor.
WaterColor Homes for Sale
What is your favorite thing to do at WaterColor?
We would love to read your comments below!
Browse Select 30A Communites