30A Florida Real Estate - Guest Post Guidelines
Posted by Kim Bauman on Sunday, January 2, 2022 at 3:11 PM
By Kim Bauman / January 2, 2022
Comment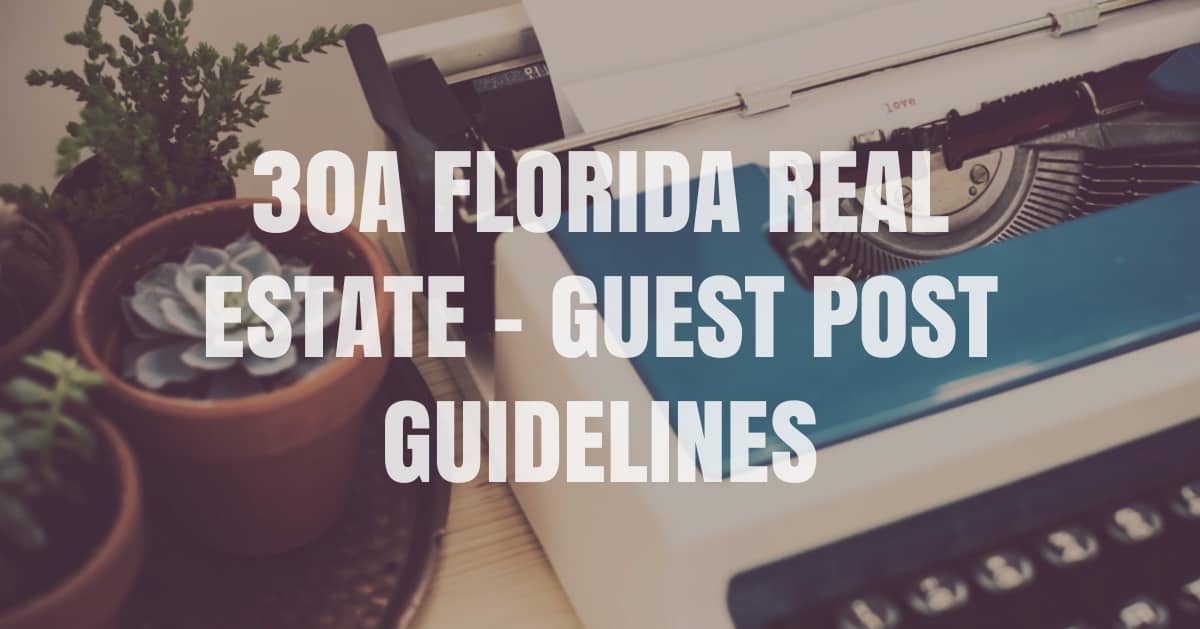 Are you interested in submitting a guest post to our real estate blog on 30A and Florida's Emerald Coast? Great! We welcome high-quality, informative content from guest writers who can provide valuable insights about the real estate market and lifestyle in the area.
To ensure that your guest post meets our guidelines, we have outlined some key requirements that you should keep in mind before submitting your content.
Content
Our blog focuses on real estate and lifestyle topics relevant to 30A and Florida's Emerald Coast, NW Florida's Panhandle. We welcome posts about local real estate market trends, buying and selling tips, neighborhood guides, local events, and restaurant recommendations. Please ensure that your post is relevant to our audience and fits within the scope of our blog.
Real Estate Trends
Neighborhood Guides
Real Estate Advice
Mortgage & Insurance
Home Technology
Tax Matters
Local Events
Restaurants
Local Things to Do
We also require that your article is well-researched and fact-checked. Use credible sources and statistics to support your arguments, and avoid making claims that are not backed up by evidence. Additionally, ensure that your article is original, not published elsewhere, and does not violate copyright or plagiarism rules.
Article Length
We require guest posts to be at least 1,500 words in length. This ensures that our readers receive in-depth, comprehensive information about the topic at hand. However, please keep in mind that quality is more important than quantity. We prefer well-written content that delivers value to our readers.
Links and Promotion
We require two internal links to a community page or a blog article on our website and one link to a high-authority real estate or business website. When including internal links, we recommend that you choose anchor text that is relevant to the topic at hand. This ensures that readers are directed to relevant content within our real estate blog and are more likely to engage with additional articles.
We allow one promotional link embedded in each guest post submitted to our real estate blog. This means you can share your valuable insights and knowledge with our readers and drive traffic to your website. However, please note that the backlink must be relevant and add value to the content of the article. The domain must also have at least 2,500 organic visits per month and a DA of 20 or higher.
2 Internal Links
1 External High-Authority Link
1 Self-promotional Link
Writing Style and Tone
Our audience is diverse and includes professionals, entrepreneurs, and enthusiasts who are interested in various topics. Therefore, we require a conversational writing style that is easy to read and understand. Use simple and clear language, avoid jargon and technical terms, and aim to engage and inform readers.
We also expect our guest authors to write with confidence and authority. Your article should demonstrate your expertise and provide unique insights and perspectives that our readers can't find elsewhere. Be original, creative, and passionate about your topic; use examples and stories to illustrate your points.
Formatting and Structure
To make your article easy to read and scan, we require that you use subheadings and bullet points to break up your content. Use H2 and H3 tags for your subheadings, and make sure they are keyword-rich and relevant to your content.
We also recommend keeping your paragraphs short and concise and using font size and style that is easy to read. We encourage the use of high-quality images to accompany your article. Please ensure that any images used are free of copyright and have the appropriate attribution or permission for use.
Before Submitting Your Article
Before submitting your article, please confirm we approve your topic and all links. This will ensure that your content aligns with our guidelines and standards and that it will provide value to our readers. We want to make sure that our readers receive only the highest quality and most relevant content on our real estate blog.
Please first submit your proposal for approval to: [email protected]
Editing and Approval
We reserve the right to edit your guest post for clarity, grammar, spelling, and style. We may also make minor changes to the article to ensure that it meets our editorial guidelines. We will notify you if significant changes are required or if we decide not to publish your article.
Thank you for understanding and for your cooperation in making our blog a great resource for everyone interested in the lifestyle and real estate opportunities of Florida's Emerald Coast.
We hope these guidelines will help you write a great guest post that provides value to our readers and helps you showcase your expertise. If you have any questions or concerns, feel free to contact us. We look forward to working with you!