A Local's Guide to Crab Island
Posted by Kim Bauman on Saturday, August 29, 2020 at 10:26 AM
By Kim Bauman / August 29, 2020
Comment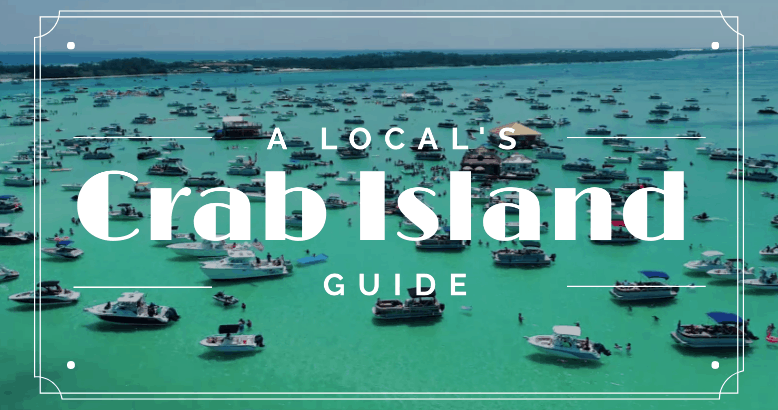 What is Crab Island?
You're likely familiar with the sugary white sands and deep teal-green salty waters of Destin, 30A, Seaside, and other charismatic beach towns dotting the Gulf of Mexico in the northwestern panhandle of Florida, but are you familiar with what locals and tourists call Crab Island? A tourist destination for families, friends, locals, and tourists alike – and a unique landmark that has garnered headlines that traveled to every corner of the globe – Crab Island is a man-made phenomenon that brings thousands of beach lovers together every season.
Just a couple miles and a short boat ride off the coast of the emerald waters of Destin, Florida, Crab Island isn't exactly an actual island. Crab Island is a massive underwater sandbar – taking up nearly four acres in the crystal waters off the coast of Florida. It's large enough to offer hundreds of boats to anchor and the perfect spot to relax and soak up the sun!
Once, it was an actual island, a result of the Army Corps of Engineers dredging sand from the East Pass in the early 1960s to control the flow of the waters in the Gulf of Mexico. Some say the island resembled a crab, but others recount memories of anchoring up and collecting crabs with their families for a crab boil. Due to Hurricane Eloise in the '70s and the passage of time, today, it is a one-of-a-kind destination near Destin to anchor a boat, float, and revel in the stunning turquoise waters of the Gulf of Mexico.
It's a perfect patch of paradise – and it's a short flight from many U.S. cities; it's located just a few minutes off the coast of the panhandle of Florida. Keep reading for details on Crab Island's location and how to get there quickly.
Where is Crab Island?
As you drive into Destin, Florida, Crab Island is hard to miss. The popular beach hangout spot is located on the north side of the Destin Bridge in Destin, Florida, in the Choctawhatchee Bay. You won't miss it for a few reasons: the spectacular view of the calm water, and on most sunny days, you'll see a colorful scene of dozens and dozens of boats floating peacefully and swimmers and paddlers enjoying the day at Crab Island.
Destin, Florida, in Okaloosa County, is a world-famous location on what's known as the Emerald Coast in northwestern Florida. This stretch of beaches along the Gulf of Mexico earned its name from the unique color of the saltwater – it's not a deep blue ocean but rather a striking combination of a rich blue and a deep green. Destin is home to stunning white beaches made all the more striking against the contrast of the emerald waters.
On most days, Crab Island is dotted with a wide array of boats, floating restaurants, the occasional floating stage for outdoor concerts, and other fun entertainment options – all in the middle of the Bay, with no bridges or roads around.
Crab Island is unique for many reasons, most spectacularly being that it's not considered part of the Gulf of Mexico, so the water is calm and crystal clear year-round, making it the perfect spot to anchor and float for a few hours. You get the relaxing feeling of being at the ocean, enjoying the sun and the saltwater, but without the choppy waves and unpredictable tides. It truly is the best of both worlds.
Crab Island is in the middle of the Bay – and is only accessible by boat. Read more about how to get to Crab Island below.
What's the best way to get to Crab Island?
The juice, as they say, is well worth the squeeze when it comes to traveling to Crab Island. You can't get there by plane, train, or automobile, but you can rent a boat or another water vehicle and easily and quickly arrive at Crab Island.
The trip will take roughly five minutes if you're leaving from Destin Harbor. You can rent a boat, bring your boat, or charter a boat excursion and have someone take you to Crab Island for a few hours at a time. Just remember, city ordinances now require boat excursion captains to stay with their passengers during their trips. This new ordinance helps to keep everyone who visits and enjoys Crab Island safe. Most excursion companies offer trips that last a few hours, anywhere from 2-4 hours a day.
Are you more of the do-it-yourself type of traveler? If so – and if you're looking for a more active roundtrip option to and from Crab Island – you could consider a more athletic mode of transportation like paddleboarding or kayaking. Once you arrive, you can rest and relax on your trip. While you can kayak or paddleboard out to the island, you cannot swim from shore.
Crab Island is incredibly popular – and for a good reason – with both tourists and locals alike. For that reason, companies now offer multi-person shuttles from Destin to Crab Island. These shuttles are often more affordable than renting a boat or chartering an excursion. Shuttles also provide guests with a safe ride to and from the island through the Bay. Schedules vary, and space can sometimes be limited during the busiest seasons, but this is an excellent option for guests who don't want to drive their boat to and from Crab Island.
If you're coming to northwestern Florida from out of state – or even out of the country – you can fly into the region's beautiful airport, Northwest Florida Regional Airport (VPS), and enjoy a few days in the northwestern Florida region before and after your trip to Crab Island. If you're traveling from inside the state of Florida, or the southeastern part of the United States, consider taking a scenic beach route into town to make the most of your trip to the region.
So, what can I do when I get to Crab Island?
Despite Crab Island being in the middle of the water, there's plenty to do! Of course, what you'll want to do first is relax! You've made it to some of the prettiest waters in the world. Put your feet up, soak it all in and make some great memories! If you're looking for a more relaxing trip with fewer people anchored in the waters, consider going during the weekday.
Crab Island is huge – and because it is such a large sandbar, it is home to very shallow water. This means you can anchor safely, get out, enjoy the water, weather, and atmosphere, and maybe even spot some marine life during your day on the island.
Enjoy time on your boat, spend some time relaxing and listening to music or reading a book, paddling in the water, playing volleyball, football, or other fun water or sand sports, watching for marine life, and maybe even making some new friends!
Once you've made it to Crab Island, you won't want to leave for a few hours! Planning and packing ahead are essential so you aren't missing any necessary supplies once you arrive at the island. Here are a few things to consider bringing for your trip:
Pack your cooler. Bring a few snacks, lunch, and plenty of drinks and water to tide you over as you spend the day in the crystal waters.
Bring some cash. You may be in the middle of the Bay, but there are still vendors on food boats and floating restaurants who sell small lunches, snacks, and non-alcoholic drinks. When planning your trip, remember these floating experiences are only available during the high tourist season in northwestern Florida, roughly from March through October most years.
Plan to be in the sun. Bring sun protection, like plenty of sunscreen, a sunhat, and extra umbrellas. There's no shade in the middle of the water, so pack ahead and save yourself from a painful sunburn!
Make your memories – and save them, too. Consider picking up a waterproof camera you can use to capture memories of the incredible scenery.
What else is nearby Crab Island that I can explore?
Crab Island is just off the coast of the incredible beach resort town of Destin, Florida. Destin is known for its world-class amenities, resorts, restaurants, some of the region's most famous golf courses, and incredible deep-sea fishing in the Gulf of Mexico. Whether you want to spend time on-shore or off-shore, Destin is a beautiful city to spend a few extra days before and after your visit to Crab Island.
Adventure is everywhere in Destin – from snorkeling in the emerald waters to cruising the waves in a rented jet ski – there is an exhilarating adventure for everyone. And, for those who prefer to stay on-shore, Destin has plenty of wonderfully unique shops, spas, and restaurants for you to enjoy. If you're a nature watcher, catch a dolphin boat tour, spend time at Henderson Beach State Park, just east of Destin's beaches, or pay a visit to the Florida Gulfarium and learn more about the awesome marine life that calls the Emerald Coast home.
Make an entire day of traveling 30-A, a stunningly beautiful 24-mile stretch of a beach road that connects the Destin area to the Panama City area of northwestern Florida. Enjoy the views along the scenic 30-A route east and visit a series of stunning beach towns that dot the coast, like Sandestin, Grayton Beach, WaterColor, Seaside, WaterSound, Alys Beach, and Rosemary Beach, each town equally as charming and beautiful as its neighbor.
Okay – I loved my trip and don't want to leave! Can I stay forever?
Once you visit, you likely won't want to leave. Make your temporary vacation state of mind permanent with a place of your own near desirable Crab Island in Destin, Florida, or along the northwestern coast of Florida.
Living in Florida full-time may sound like an out-of-reach dream, but it's closer to reality than you might think. Considering our current environment, you may find this moment the best to make a move to Florida. If you're looking to move from a congested urban area, or if your regular 9-5 office job can now be done remotely, you could move to NW Florida within the next few months.
Find your own slice of paradise for a second home or a prime investment property here: Condos Near Crab Island. If boating is your pastime, explore homes and and condos on nearby Holiday Isle.
There are many benefits to living in a permanent vacation state of mind. Florida boasts year-round sunny weather, miles and miles of oceanfront property options, and too many attractions to count! Also, Florida is also an affordable state to live in and has no state income taxes or personal income taxes. In the state's northern panhandle, Destin is home to a healthy, robust, and diverse economy that thrives during both the on-season and off-season. Destin also offers plenty of big-city amenities while still retaining its small-town, Southern hospitality and charm.
Condos Near Crab Island
Don't forget to like us on Facebook, and while you're there, subscribe to our True South Coastal Homes Newsletter, as we're excited to bring you information about the area we call home.
If you're considering making the Emerald Coast your home or buying a 30A vacation home, or investment property, we would love to assist you. Please send us a message or visit our neighborhood pages on TrueSouthCoastalHomes.com to begin the search for your perfect property.
Browse Holiday Isle Condos