4 {more} Emerald Coast Golf Courses We Love
Posted by Kim Bauman on Tuesday, January 21, 2020 at 9:09 AM
By Kim Bauman / January 21, 2020
Comment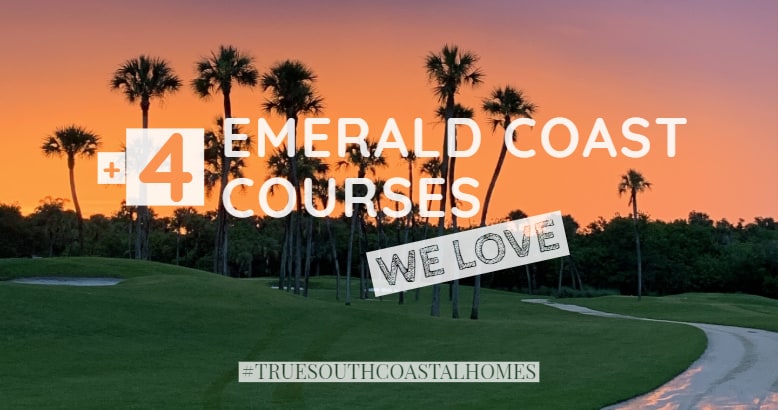 In a previous post, we explored a few of the great greens on the Emerald Coast. Well, to put it simply, there were just too many to list!
We'd like to take this opportunity to introduce you to yet a few more golf courses and clubs in the Destin area that we've fallen in love with. With miles upon miles of green waters and white beaches to explore while you tee off, we think you're going to fall in love, too.
Raven Golf Club at Sandestin – Miramar Beach
In our previous list of golf courses in the Miramar Beach area, we mentioned the Baytowne Golf Club. Like Baytowne, the Raven Golf Club is a part of Sandestin Golf and Beach Resort, making it a great destination for the whole family. Whether you're a golfer or a shopper, Sandestin offers entertainment for everyone; from evening entertainment to family-friendly watersports, everyone will enjoy their trip to the Emerald Coast.
The Raven Golf Club meanders through peaceful marshes and tall pines, and reviews of the course say it's well maintained. The course has earned several acknowledgments including a four-time mention in Golfweek Magazine as one of the "Best Courses You Can Play." GPS-enabled carts and excellent customer service will make the Raven Golf Club a place you'll want to come back to.
If you, for any reason, feel the need to explore outside the 2,400-acre resort property, you'll find plenty to do. Fishing piers, antique stores, and wonderful restaurants are all nearby to the Raven Golf Club.
Raven Golf Club
1199 Troon Dr. N, Miramar Beach, FL 32550
Regatta Bay – Destin
The next course we felt was too good to pass up is the Regatta Bay Golf and Yacht Club in Destin. The greens are in great condition, and absolutely spotless. Pristine fairways and quite a few challenging water features make this a five-star course. We also love the added challenge of the strong ocean winds, making this a tough course for even experienced golfers.
Regatta Bay Golf and Yacht Club go above and beyond for its golf fans. You'll find drinks carts making their rounds around the course as well as chilled apples and iced towels that smell like mangos. After you sink the 18th, head to the clubhouse to feel even more pampered. Choose a light sandwich or a steak cooked to perfection, paired with a wine or champagne from the Grill's extensive list.
When it's time to rest, you'll find plenty of lodging options in the area. Select from privately owned inns, larger branded hotels or seek out a vacation rental home nearby. Either way, you'll love your stay!
Regatta Bay Golf & Yacht Club
465 Regatta Bay Blvd, Destin, FL 32541
Kelly Plantation Golf Club – Destin
The Kelly Plantation Golf Club is a course with history. The 18 holes were designed to spread over what was once a turpentine farm, owned by Mattie and Coleman Kelly. Since that time, the land has been masterfully repurposed by Fred Couples and Gene Bates to create a course that's been ranked #1 by GolfAdvisor.
So what's to love about playing the Kelly Plantation course? A lot! The greens are fast and putt great and the course is leisurely. A course marshal is on-site but GPS is set for four and a half hours of gameplay: expect to spend the full afternoon. Overall, if you're looking for a game of golf that's both relaxing and challenging, Kelly Plantation is a sure bet.
When you've finished taking in the views of the Choctawhatchee Bay and the native magnolias, take in a meal at The Grille, or just sit back with a signature Bloody Mary. Then, take the family for a nearby game of laser tag, or wet a line at Henderson Beach State Park. As with every area of Destin, the whole family will want to stay!
Kelly Plantation Golf Club
307 Kelly Plantation Drive, Destin, FL 32541
Bluewater Bay Resort – Niceville
Last on the list, but certainly not least, is the Bluewater Bay Resort in Niceville. This 27-hole course is divided into three individual sets: The Bay Course, The Marsh Course, and the Lake Course. We happen to be fond of the Bay Course, but there's something to love about each.
The Bay Course offers well-maintained tee blocks as well as a brilliant view of the water. A strong breeze from the bay means a comfortable game, no matter the weather. The Lake Course is stunning as well, and it's casual as well as challenging. The Marsh Course offers tricky bunkers and calm marsh views.
We love how well the Bluewater Bay Resort represents the unique landscape of the Emerald Coast. But be sure you check out the cultural landscape of the area when you visit, too. You and your family will love local opportunities for sailing, brewery tours, fishing charters and so much more!
Bluewater Bay Golf Club
2000 Bluewater Blvd, Niceville, FL 32578
Don't forget to like us on Facebook and while you're there subscribe to our True South Coastal Homes Newsletter, as we're excited to bring you information about the area we call home. You may want to check out our Golf Course Living page that makes it easy to find your dream golf course home on Florida's Emerald Coast.
If you're considering making the Emerald Coast your home, too, we can help. Send us a message online or visit the neighborhood pages on TrueSouthCoastalHomes.com to begin the search for your perfect property.