4 Benefits to Buying a Home on the Emerald Coast
Posted by Kim Bauman on Wednesday, February 13, 2019 at 9:59 PM
By Kim Bauman / February 13, 2019
Comment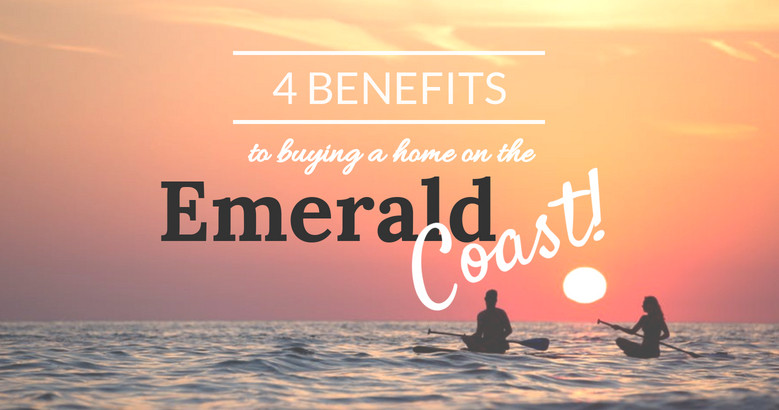 From coast to coast, America is a beautiful country. With so many amazing places to choose from, it can be difficult to determine the right place when deciding where to move. The coasts of America remain some of the most highly desired properties available and with good reason. Besides being a status symbol, there are assets to living in areas like the Emerald Coast, Northwest Florida's panhandle, that you can't get in other places. Here are four benefits to buying a house on the coast.
Beautiful Views and Better Communities
A key benefit of coastal living is fantastic views of the ocean and seaside nature. A home with a view of the water is guaranteed to have beautiful sunrises and sunsets. The waterways of the coast make beautiful scenery, but don't forget about coastal habitats on land that can't be seen anywhere else. On the Emerald Coast, we have white sands, emerald waters, coastal dune lakes, and even Scenic Highway 30A. When you factor in the temperate climate of most coastal communities, you can see why the scenery and the ambiance are key reasons for buying a home on the coast. Additionally, many coastal communities are smaller than the cities that surround them. This means when you buy a house on the coast, you have access to nearby large markets while living in a peaceful and quiet community.
Seaside Living Can Improve Your Physical Health
Coastal communities are also an excellent place to move if you want an environment that can improve your physical health. It is believed that fresh, sea air can have positive effects on the respiratory system. It can even help with issues related to asthma, bronchitis, sinus pressure, and more. Ocean air also contains negatively charged hydrogen ions that can function like antioxidants that have multiple benefits for your health.
Living near the sea can also encourage a healthier diet. Buying a home or condo on the coast gives you the opportunity to eat fresh seafood which is something that is recommended for a healthier diet. And since the fish is freshly caught instead of farm-raised, seafood from the coast is more nutritious. You'll be enjoying a healthier, Mediterranean diet without even realizing it.
Encourages People to Live More Active Lives
No matter their age, most Americans need to live more active lives. Living by the beach creates many opportunities for outdoor fun, which can encourage more physical activity. Coastal living promotes physical activities like walking and jogging thanks to coastal paths, local parks, and the beach itself. Living on the gives you easy access to water-related activities like surfing, swimming, kayaking, paddleboarding, diving, snorkeling, etc. If you don't know how to do those things, moving to the coast gives you a reason to learn and have fun doing it.
People who move to Northwest Florida can also enjoy many eco-tourism opportunities that can encourage you to be more active. The Emerald Coast has turtle walks, nature parks, as well as the unique wildlife and natural areas of Florida. These activities are fun, educational and promote the physical activity that can boost your help.
Living Near the Beach Can Improve Your Mental Health
Coastal communities are associated with peaceful, relaxing environments, and this can have a positive effect on the mental health of people who move to the coast. As noted before, coastal communities are smaller and have a lot of nature, and this green space promotes physical and social activity. Many studies have shown that being around more natural environments can have a stress-reducing effect. Some research studies have found a correlation between health and coastal living and that there was an uptick in mental health among people who lived by the water. This doesn't mean you have to wait until you retire to enjoy these relaxing benefits.
According to a study performed by researchers at Michigan State University, people who lived by the beach saw an improvement in mental health regardless of demographics such as age, sex, and personal income.
There are a lot of great reasons to buy a home on the coast, but you're going to need help finding the house that's right for you. If you're interested in coastal living, TrueSouthCoastalHomes.com can help you find a home on the Emerald Coast, Destin, 30A, South Walton, and Okaloosa counties. We have listings in over a dozen coastal communities.
Visit our website or call us at (404) 395-4381 to learn more.