10 Facts Every Florida Homebuyer Needs to Know About Flood Insurance
Posted by Kim Bauman on Thursday, August 1, 2019 at 4:24 PM
By Kim Bauman / August 1, 2019
Comment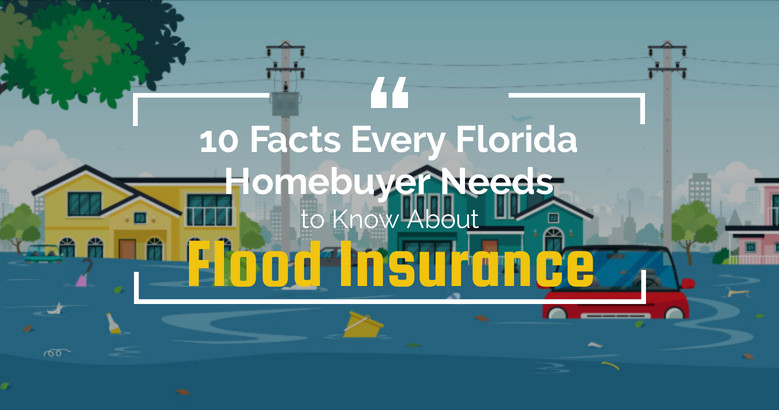 Many people dream of living in a beach home along Florida's Emerald Coast. If you are thinking about buying a home in Destin or other coastal communities, you'll want to educate yourself about flood insurance.
Here are 10 facts about flood insurance you need to know before you buy a home in Florida.
#1 You Can Buy Flood Insurance from the Government
The National Flood Insurance Program (NFIP) was created under the National Flood Insurance Act of 1968. The program, managed by FEMA, does three things:
Offers flood insurance to homeowners, renters, and businesses.
Improves floodplain management.
Develops maps of flood hazard zones.
For many years, floods were considered an uninsurable risk. Yet, 90% of natural disasters result in flood damage. In the past five years, all 50 states have experienced floods or flash floods. The need for flood insurance is great, but only 15% of homeowners hold policies.
Note that NFIP charges a premium for rental homes and vacation homes. A vacation home is one that is vacant 50% of the year. Landlords should encourage their tenants to buy rental insurance, including a flood insurance policy to cover their personal items.
#2 You Don't Need to be In a Flood Zone
If you live in Florida, you need flood insurance. Not living in a high-risk flood zone just means you are at a lower risk of experiencing flood damage. Over 20% of NFIP claims are from homeowners who do not live in a high-risk flood zone. They also receive one-third of the federal disaster dollars paid out for flood damage.
Residents of low-risk flood areas in Texas, another flood-prone state, experienced what was called an "800-year flood." The Harvey hurricane of 2017 caught many homeowners by surprise – and without flood insurance.
According to the Insurance Information Institute (III), Florida has the highest storm surge risk — by far. In 2018, the number of homes at "extreme" or "very high" risk was 1,415,767. To put this in perspective, Louisiana is number two on the list, with 279,698 homes in those risk categories. Florida has about five times more homes at risk of experiencing a storm surge.
#3 You Can Buy Private Flood Insurance for a Coastal Home
Most people buy their flood insurance through NFIP. However, private flood insurance is available. One reason to consider a policy from a private insurance company for your coastal home is that they tend to offer higher coverage limits. The NFIP caps coverage at $250,000 for the structure and $100,000 for personal contents.
Some mortgage lenders require that you buy your insurance through NFIP. That includes FHA and VA loans. If you need higher limits, talk to your insurance agent about purchasing extended coverage through a private insurer.
Florida has the highest number of flood insurance policies in-force. Although only 8% of those policies were written by private insurance companies in 2017, that segment of the industry is growing.
#4 Not Every Community Participates in the NFIP
You can only buy an NFIP policy if your community participates in the program. In order to qualify, a community must apply to the program, adopt a resolution of intent to cooperate with FEMA, and submit a floodplain management ordinance that meets NFIP criteria.
See if the beach home you are looking to buy is located in a community that offers NFIP.
#5 Some Flood Zones Don't Qualify
The Coastal Barrier Resources Act of 1982 – referred to as "COBRA" -- allowed the Federal government to not offer flood insurance coverage in designated coastal barriers. Communities who participate in NFIP may have COBRA areas. Although you may be able to get private flood insurance, the cost could be prohibitive. If you decide to buy a beach home in a COBRA area, you may need to self-insure.
The Union of Concerned Scientists issued a report in 2018 that estimated 100,000 coastal homes across the United States are at very high risk of flood damage. This is due to the rising sea levels. The market value of these properties in 2018 was over $52 billion. The report estimated that Florida coastal homes will rack up nearly $8 billion in property damage by 2030.
It is possible that your home is incorrectly categorized on the flood map. In that case, you can request a Letter of Map Amendment (LOMA) from FEMA. This official letter from FEMA takes about 60 days after you request it.
#6 Your Flood May Not Be Legal
You're standing in two feet of water in your living room. Obviously, your home is flooded. But does it meet the legal definition of a flood? Seriously, this is a thing. What qualifies as a flood? Let's quote FEMA's definition:
"A general and temporary condition of partial or complete inundation of 2 or more acres of normally dry land area or of 2 or more properties (at least 1 of which is the policyholder's property) from:

--Overflow of inland or tidal waters; or

--Unusual and rapid accumulation or runoff of surface waters from any source; or

--Mudflow; or

Collapse or subsidence of land along the shore of a lake or similar body of water as a result of erosion or undermining caused by waves or currents of water exceeding anticipated cyclical levels..."
In other words, your surrounding land is normally dry and a natural disaster caused flooding in your home and at least one other neighbor's home.
The next logical question is, "Will my homeowners policy cover this damage?"
#7 Homeowners Policies Don't Cover Flood Damage
Let's go back to your living room where you are standing in two feet of water. If that water damage was caused by a sudden and accidental event – such as a water heater bursting – you may be covered. The insurance company will pay for the damage done, but not the source of the damage. You will probably be responsible for replacing the water heater. Your homeowners policy will cover replacing the damaged floors.
Another event not covered by the standard homeowners policy is water backing up from an outside sewer or drain. This seems like one of those far-fetched events, doesn't it? One landlord reported a case where their tenants were using baby wipes in place of toilet paper. Four family members flushing baby wipes down the toilet for two years. This eventually caused the main sewer line to the house to break and flood the home. It may be possible to buy extended coverage specifically for this type of water event.
Water damage caused by poor maintenance is not covered. Consider having a plumber inspect your home annually for water leaks. If you are aware of leaks, take care of them right away. Over time, that annoying "drip, drip" sound could add up to big dollar damage.
Damage from a flood (as defined by FEMA) is never covered by your homeowners policy.
#8 Flood Insurance Doesn't Cover All Water Damage
You need separate flood insurance because your homeowners policy will not cover all water events. But flood insurance doesn't cover all water damage either. Personal property in a basement, for example, is not covered. (Although most Florida homes don't have basements.) Your personal property is covered on a cash-value basis. If your commercial-quality stove is damaged beyond repair, you will receive what FEMA says it's currently worth – not what it costs to replace it. Before you put in a claim, it may be prudent to consult with a lawyer who specializes in insurance claims.
In any case, you'll want to talk with your insurance agent about areas of the home and items that may not be covered.
#9 You May Need an Elevation Certificate to Get A Quote
Coastal homes in high risk flood zones will need an Elevation Certificate (EC) in order to get an accurate quote for flood insurance. NFIP will require the EC. Some private insurers request it, too. Florida homes in low- and moderate-risk flood zones do not typically need an EC.
The key feature of your home the EC documents is the elevation of the lowermost floor in the home. This is compared to the Base Flood Elevation (BFE). The BFE is the elevation that floodwaters have a 1% chance of reaching or exceeding. Generally, risk is associated with this elevation. The higher your lowermost floor is above the BFE, the lower the risk – and the more likely your insurance premium will be lower.
#10 You can Lower Your Flood Insurance Premium
Florida's average flood insurance premium is $550. This is 21% lower than the national average. But buying flood insurance for a coastal home is more expensive. This is where the home's elevation above the BFE really matters. A home at the same level as the BFE could be over $10,000. There are two ways you can lower the flood insurance premium on your beach home: 1. Select a higher deductible and 2. Flood proof your home. There are several ways to flood proof your home. ValuePenquin advises to:
• Raise your home on stilts or piers.
• Install foundation vents or a sump pump.
• Apply coatings and sealants.
• Raise your electrical outlets and switches.
• Install check valves on your pipes.
• Grade your lawn away from the house.
• Make space between your mulch and siding.
• Point your downspouts away from your home.
You may not need to implement every solution. Raising an existing home on stilts is likely cost-prohibitive. (But this should definitely be considered when building a home in a high-risk flood zone.) That's where evaluating your risk of flood comes into play. Learn more about flood risk evaluation and flood proofing.
If you're looking to buy a home in the city of Destin, your flood insurance premium will be lower. Destin has maintained a Community Rating Systems (CRS) Class 6 rating. This puts Destin in the top 15% of communities nationwide. The rating is FEMA's assessment of the city's effort to implement flood prevention measures. Policyholders in the special flood hazard area (zones A and V) have received a 20% premium discount since 2010. View the City of Destin's flood map.
No matter where in Florida you decide to buy your home, the community's outreach program or floodplain manager can help you understand your flood risk and what you can do to lower that risk.
Don't Be Afraid to Buy a Beach Home
Our goal is to educate homebuyers on the importance of buying flood insurance – especially those who want to live on the Emerald Coast. The purpose of insurance is peace-of-mind. Don't be afraid to buy a beach home. Just make sure you're covered. Talk with a reputable insurance agent (we can help you find a great one) to ensure you are buying the right policies to protect your beautiful coastal home. Then sit back, relax, and enjoy the view.
Resources: