Rosemary Beach Homes for Sale - Rosemary Beach Real Estate
---
Discover the latest Rosemary Beach homes, townhomes & condos for sale on 30A in Inlet Beach, FL.
30A real estate inventory is low, and the market is still competitive. Gain a competitive buyer's edge. Join our Market Hotlist and be notified instantly when a new 30A property hits the market.
Rosemary Beach, Inlet Beach
September 26, 2023
$1,499.69
Avg. $ / Sq.Ft.
$3,940,000
Med. List Price
Rosemary Beach, Inlet Beach by Price
Rosemary Beach Guide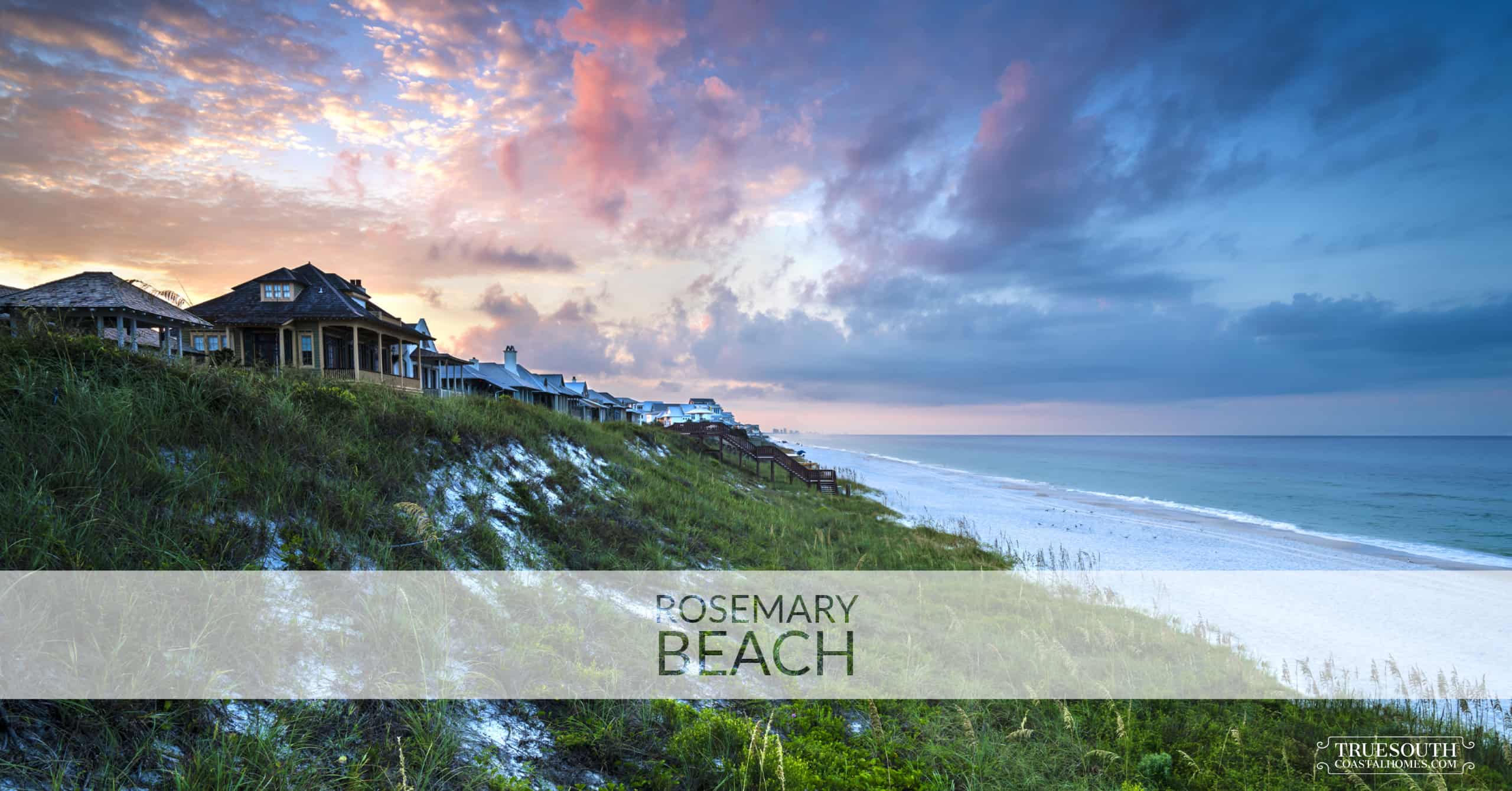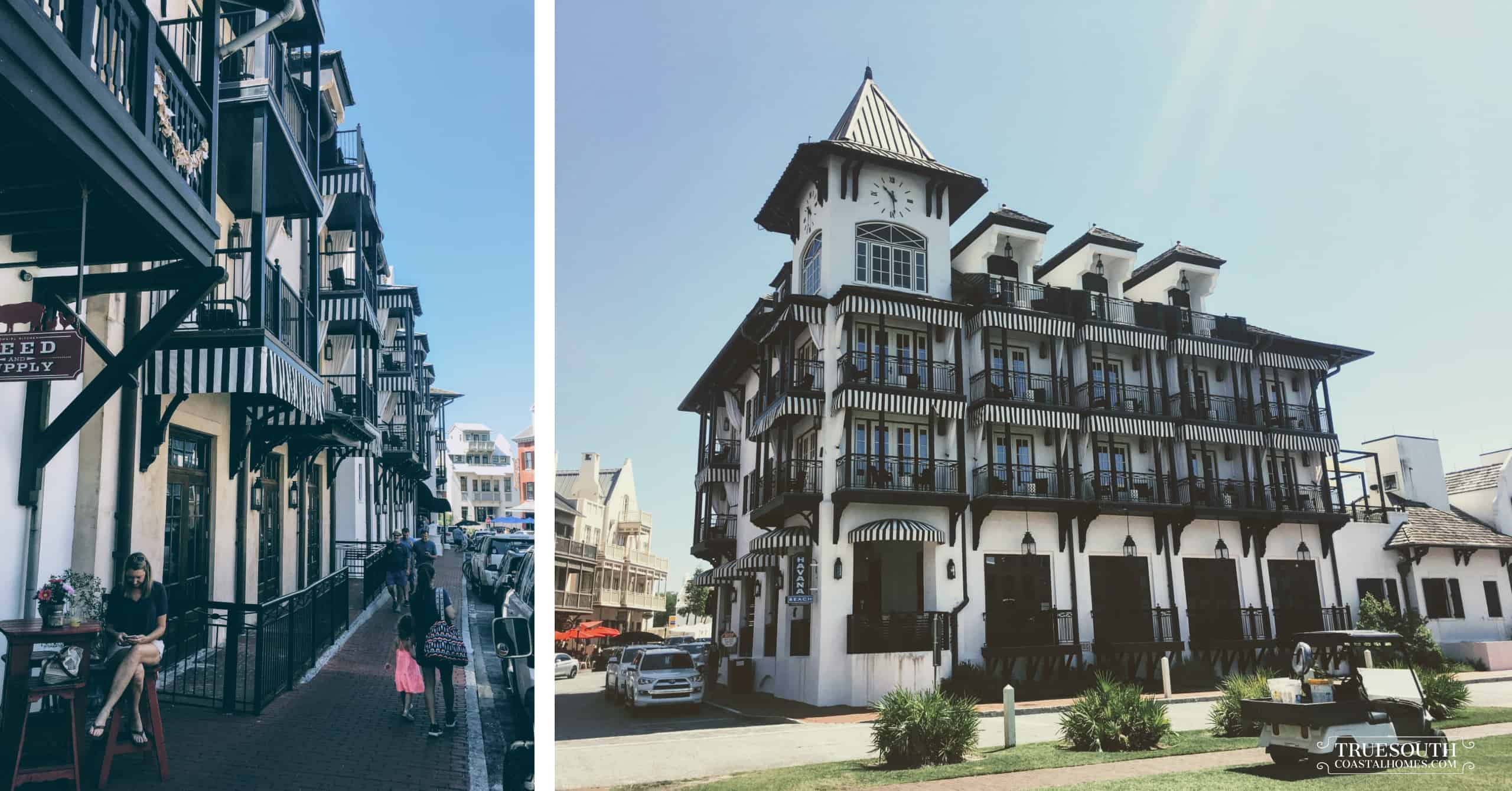 Rosemary Beach Real Estate
Rosemary Beach is one of the most beloved, intimate towns on Florida's northern Gulf Coast. Residents enjoy a thoughtfully designed community while accessing the amenities of life in paradise. Florida's panhandle is an eclectic mix of classical, historic structures and new developments. The coast is punctuated by small beach towns like Rosemary Beach, where people get away from it all with forever homes or vacation homes.
Rosemary Beach is a gem among the other cities and towns along Florida's panhandle. The town is only 105 acres in total and has 400 home sites. Its exclusivity is only rivaled by its desirability, as it boasts unparalleled access to breathtaking sunsets and lazy days by the ocean.
No expense or care was spared in the planning of this small town. Each home is a work of art, thoughtfully designed and constructed with luxury in mind. Rosemary Beach real estate is quickly becoming a must-have commodity for snowbirds, vacationers, and year-long residents. Rosemary Beach is the perfect community for buyers who want an elegant, well-designed community with all of the pleasures of life at the beach. Read on to learn why.
Rosemary Beach Homes
Homes in Rosemary Beach are an illustration of how Florida's diverse roots manifest in powerful ways. Because this community was launched in 1995, innovative builders leveraged the amalgam of cultural influences to create genuinely unique homes.
New Urbanism and Life in Rosemary Beach, FL
Rosemary Beach homes are an extension of the vision of community designers Andres Duany and Elizabeth Plater-Zyberk. These visionaries also created Seaside and Alys Beach. Along with Rosemary Beach, these three communities are living demonstrations of New Urbanism.
An urban design movement, New Urbanism, promotes a healthy and environmentally friendly lifestyle. Small communities like Rosemary Beach, FL, are designed with walking and cycling in mind. The community market mentality is in full motion with safety-conscious infrastructures like sidewalks and homes close to shops and restaurants. These provisions encourage wellness and connect residents to each other and to the great outdoors.
Rosemary Beach houses are themselves an extension of the mentalities behind New Urbanism. The design motifs may range from European Colonial to West Indies/Caribbean. The structures are built with sustainable materials and positioned within walking distance of the beach. Most houses in Rosemary Beach have sweeping ceilings, natural color palettes, generous balconies, and indoor/outdoor living options.
Everything in this development encourages a balanced, connected lifestyle. It's not hard to see why homes for sale in Rosemary Beach are so popular with everyone who visits here.
Rosemary Beach Homes for Sale
Rosemary Beach has homes for sale in various price ranges and design styles. Numerous luxury home builders have been fortunate enough to secure projects in this prestigious community. While all of the homes align with the overarching philosophy and ethos of the area, each is wonderfully unique. Houses for sale in Rosemary Beach range from stark, white, and modern to grand, regal, and stately.
Contact us to see houses for sale in Rosemary Beach, Florida, and dream of which may be perfect for you.
Rosemary Beach Properties for Sale
Rosemary Beach, FL homes for sale encircle a community center built to resemble a New Orleans' French Quarter. This welcoming town center has shops, a hotel, restaurants, and outdoor green spaces that can be enjoyed year-round by Rosemary Beach residents. Other amenities include:
Community Pools
Owners Pavillion
Small parks and green spaces
Nature trails
Fitness Center
Racquet Club
Because of the original intent and community design, homes for sale in Rosemary Beach, FL, are close to the ocean.
The Rosemary Beach Community
Above are the general elements of the Rosemary Beach community that residents enjoy. If you plan to visit or shop for a home in Rosemary Beach, it's worthwhile to understand how unique this community is. Rosemary Beach, FL, is a walkable town with surprises like butterfly gardens and pocket parks. Small businesses add to the intimacy and charm of this area.
Local Merchants & Amenities:
Barrett Square: this is the official courtyard in the community, which contains most of the area's shops and restaurants.
Bamboo Bicycle Company: rent cycles and leverage the slow pace and easy access to sidewalks and roadsides in town and the beach.
Beach Service: vacationers or residents can rent chairs and umbrellas on the beach through an easy online service.
Beach Walkovers: 9 walkovers provide quick access to the coastline beaches.
Office and banking: 30A Farms rent office space for temporary or co-working arrangements. You can bank with the local Regions Rosemary Beach Branch.
Shops:
Additional shops include Luminary, Ex Voto (vintage clothing), Tracery Interiors (home), and the Vivo Spa. Rosemary Beach has trademarked tokens that can be redeemed at any participating local merchant.
Restaurants:
Other restaurants include the Sugar Shak, Wild Olives wine and cheese market, and Edward's Fine Food and Wine.
The Pearl Hotel
A marquee landmark of this quaint beach community is The Pearl Hotel. The Pearl is a grand, state-of-the-art facility with elegant rooms, fine dining, and a full-service spa. Visit to enjoy its Old World European architecture and timeless design. You can gain private access to tennis, championship golf, and the WaterSound Beach Club through The Pearl and St. Joe Hospitality.
Pets & Golf Carts in Rosemary Beach
The culture, cuisine, and call of the ocean draw many homeowners to this community. Community guidelines protect the luxury and joy of beach living.
Since 2014, golf carts and similar motorized vehicles have been banned in Rosemary Beach. This is to support the community's commitment to walkability and protect pedestrians.
Some restrictions exist on pet access to the beaches. You must be a Walton County resident to get a permit to bring your pet onto the beach.
Homes for Sale Rosemary Beach FL
Meander along a boardwalk, lounge poolside, or enjoy an evening illuminated by gas-lit lanterns in the town square. These are some of the moments you will enjoy when you buy a home for sale in Rosemary Beach, FL. As you look to purchase property in Rosemary Beach, FL, there are many options.
Snowbirds and Vacationing in Rosemary Beach
For some, the dream of life in Rosemary Beach is part of an annual cycle. Rosemary Beach, FL, may become your winter home, relieving you from inclement weather. People who want a genuinely effortless opportunity to get away from it all for weeks or months of the year may buy a second home in Rosemary Beach, FL. The good news is, when you do, you have the ultimate freedom and know that life in paradise is only a flight away.
Vacation Homes & Cottages in Rosemary Beach, FL
Some single-family homes have rentable additions or carriage homes. These are just as beautiful and well-designed and may meet your needs for a part-time residence or vacation getaway.
Real Estate in Rosemary Beach, FL
There is never a wrong time to buy a beautiful beach home. Real estate in Rosemary Beach, FL, goes through seasons of scarcity. With only a few hundred homes in the entire community, purchasing a Rosemary Beach home is time-sensitive.
Here are some general real estate data about this area (May 2022):
The median list price for Rosemary Beach homes is est. $4,750,000
The median price per square foot for Rosemary Beach homes is est. $1,681.87
Rosemary Beach has an average of 22 days on the market
*Contact us for the latest market statistics.
Rosemary Beach: Area Information
Rosemary Beach is an exclusive community located on the Western end of 30A of Florida's northern Gulf Coast. The town is situated near Panama City Beach and south of Alys Beach and Seacrest. While residents enjoy the peace and quiet of life in a small town, Panama City and Destin are nearby, ensuring easy access to metropolitan life and resources.
30A Beaches
Pristine beaches populate the southern length of the Florida panhandle. You can visit coastal dune lakes and other beachfront destinations for the 24-mile stretch along with the ever-charming Rosemary Beach. Popular options include Dune Allen Beach, Seagrove Beach, Grayton Beach, Blue Mountain Beach, Inlet Beach, and Seacrest Beach.
Whether you visit to find a home in Rosemary Beach or intend to travel frequently to a vacation home, you can do so quickly from the Panama City Airport (ECP). This airport is less than 14 miles from Rosemary Beach. You can also travel out of nearby Destin-Fort Walton Beach Airport (VPS) or Destin Executive Airport if you need additional options.
Rosemary Beach's position also offers access to many of North Florida's exciting sights for residents or visitors.
Rosemary Beach: More Things To Do
Every day can be a new adventure as you explore the parks and outdoor activities in Rosemary Beach.
Deer Lake State Park Timpoochee Trail
Coldwater Excursions
Camp Helen State Park
Fishing charters
Water sports
Homes in Rosemary Beach are close enough to the activities of larger cities but offer a quiet retreat and refreshingly restrained pace of life. For many new home buyers, Rosemary Beach has become a paradise that is home or home away from home.
There are properties available for sale in Rosemary Beach, Florida. Feel free to contact us to inquire about any of the properties on this page, or simply to open a discussion of your move to Rosemary Beach.
Rosemary Beach Property For Sale
Even in a small community, there are a variety of homes for sale in Rosemary Beach. Founded by innovators and leveraging creative and environmentally-friendly options, the homes in Rosemary Beach are distinct. Some regular home types in Rosemary include designs reminiscent of:
Old South Florida cottage-style homes
Tuscan-inspired houses with Italian-style balconies and masonry
Modern beach homes with minimalist exterior and interior design
Rosemary Beach has homes designed by award-winning architects. Home design elements range from intricate and classic to creative and straightforward. Each home is uniquely crafted and includes custom architecture and designs. Have the vision to build your own home on Rosemary Beach home? Click here to see available vacant lots, and let us connect you with well-respected builders in the community.
If you are searching for a Rosemary Beach property or home, we would love to be of service. You can browse properties on this page and contact us to describe your dream of beach living in this charming town. We will find the perfect fit.
Rosemary Beach Market Update | Rosemary Beach Homes | Rosemary Beach Condos | Rosemary Beach Townhomes | Rosemary Beach New Construction | Rosemary Beach Vacant Lots | Rosemary Beach Sold Comps | Rosemary Beach Price Reduced >10% | Rosemary Beach Guide
*All information provided is deemed reliable but is not guaranteed accurate. Users should confirm accuracy.
---
We are your TRUE local Emerald Coast & 30A real estate experts. Our team can show you any property you find and give you all the info you need, including disclosures, sales history, and local market data.
We are also window-shopper friendly! Who doesn't love to look at houses? Be confident we're not here to pressure you into working with us; you may update your contact preferences anytime. However, registering an account with us allows you to personalize your searches and receive timely status and price change notifications.
Rosemary Beach Videos Rosemary Beach Community Highlight Video | Rosemary Beach, FL
Rosemary Beach in South Walton, Florida is the perfect place to both relax and reconnect. This wonderful northwest Florida beach offers wonderful carriage houses and cottages with wide-open porches and Gulf of Mexico ocean views. Rosemary Beach has a great Town Center with a "French Quarter" feel, making it the perfect place for you and your family's beach vacation.
Browse Inlet Beach Communities
Consult a True local real estate expert from TrueSouthCoastalHomes.com at
(404) 395-4381
. We specialize in the coastal communities on Florida's Emerald Coast from 30A to Destin and Niceville to Freeport. We are committed to your 5-star experience and finding the perfect home matching your wishes and needs.