Grayton Beach Homes for Sale - Grayton Beach Real Estate
---
Are you searching for a beautiful beachfront property along the Gulf of Mexico? Look no further than Grayton Beach on 30A in Santa Rosa Beach, FL. Read More
30A real estate inventory is low, and the market is still competitive. Gain a competitive buyer's edge. Join our Market Hotlist and be notified instantly when a new 30A property hits the market.
Search Grayton Beach Homes for Sale
Grayton Beach Homes For Sale
September 26, 2023
$1,166.10
Avg. $ / Sq.Ft.
$1,894,500
Med. List Price
Grayton Beach Homes For Sale by Price
Grayton Beach Guide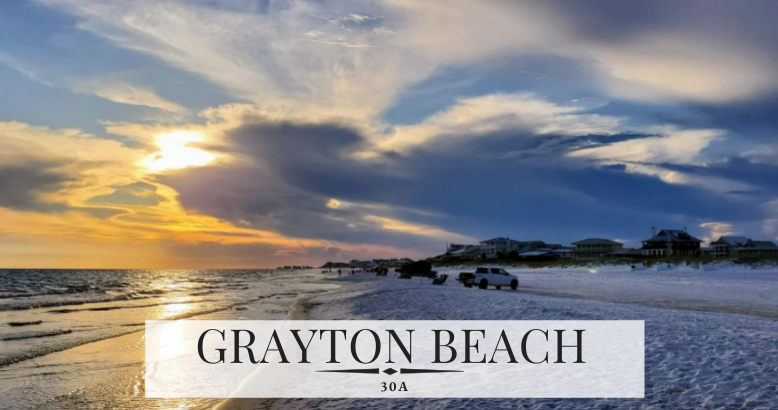 In the heart of South Walton County, Florida, Grayton Beach is a picturesque coastal town known for its crystal-clear waters, soft sand beaches, and laid-back lifestyle. This charming community has been attracting homebuyers from all over the country, looking for a slice of paradise that offers a peaceful and serene setting without compromising on modern amenities. If you're looking for your dream home in Grayton Beach, you've come to the right place. In this guide, we'll walk you through everything you need to know about Grayton Beach homes for sale, including the local real estate market, popular neighborhoods, and tips for making the most of your home-buying journey.
Grayton Beach Searches
Grayton Beach Real Estate Market Overview:
Grayton Beach has a thriving real estate market that's constantly evolving. According to recent data, the median home value in Grayton Beach is around $1.2 million, with a median listing price of $1.6 million. The market is highly competitive, with most homes selling within a few weeks of being listed. The demand for Grayton Beach homes for sale is driven by several factors, including the town's scenic beauty, convenient location, and vibrant culture. If you're planning to buy a home in Grayton Beach, it's essential to consider these factors and work with a local real estate agent who can help you navigate the market and find your dream home.
At TrueSouthCoastalHomes.com, we specialize in helping homebuyers find their perfect property in Grayton Beach.
Types of Homes for Sale in Grayton Beach:
Grayton Beach has a range of homes for sale, from cozy cottages to luxurious beachfront estates. Some of the most popular types of homes include:
Single-family homes - Stylistically, you'd consider most homes in Grayton beach a Florida Cottage or simply a Beach Home. These homes offer room and privacy, making them an excellent choice for families or those who value their personal space.
Beachfront properties - If you're looking for a home with a view, beachfront properties in Grayton Beach offer stunning vistas and easy access to the water.
Condos - Condos are popular for those looking for a low-maintenance lifestyle but uncommon in Grayton Beach. The only condo is Grayton Beach Villas condo at the end of Sandy Ln.
Tips for Buying a Home in Grayton Beach:
Work with a local real estate agent who knows the area well and has experience working with buyers in Grayton Beach. They can help you navigate the market, identify properties that match your criteria and negotiate a fair deal.
Determine your budget and get pre-approved for a mortgage before you start house hunting. This will give you a clear idea of what you can afford and make the home-buying process smoother.
Research the neighborhoods in Grayton Beach and determine which ones best suit your lifestyle and needs.
Consider the home's condition, age, and any potential repairs or renovations that may be required. It's important to get a thorough inspection before making an offer.
Be prepared to act fast, as homes in Grayton Beach tend to sell quickly. If you find a property you love, don't hesitate to make an offer.
Places to try
Grayton Beach State Park: Escape the world with a stroll through Grayton Beach State Park. This beautiful trail connects you to over 3 miles of white sand and clear blue water. Often, it's unnecessary to leave this beach nature trail to find the solitude you seek; as you walk, you'll pass little more than tall grasses, sandy dunes, and sea oats. The beach is so peaceful that sometimes it feels like no one else is around—especially in off-season months when crowds are smaller.
Western Lake - Coastal Dune Lakes: Coastal Dune Lakes are rare phenomena that only reside in certain locations. One of the most attractive things about Grayton homes is that Coastal Dune Lakes are located in South Walton and are one of Florida's treasures. These coastal dune lakes are around 10,000 years old and are formed by winds that redistribute sand and create shallow divots. It's a rare sight that you don't want to miss! You can canoe, kayak, or paddleboard in this beautiful lake along 30A!
Chanticleer Eatery: Get ready to enjoy the best food and people around. If you love grilled cheese, you won't find a better choice than the Chanticleer Eatery. Tip: You can only order one during lunch! Chanticleer Eatery is a must-visit restaurant in Grayton Beach, just north of 30A. Come by for lunch and dinner and get your mouthwatering fix of their famous burgers, ribeyes, and jambalaya. Or come in on Monday evenings for their half-priced wine bottles during happy hour.
The Red Bar: Enjoy a drink and meal at this 30A mouthwatering relaxation magnet. With a highly decorative lounge and fantastic jazz band, The Red Bar is known for its incredible Bloody Mary and is a beloved location by all who live in Grayton homes. After a recent fire, the Red Bar was rebuilt and renovated with an impeccable design.
Grayton Beer Company: Grayton Beer Company is said to be "A Way to Life" by the Grayton home residents. Grayton Beer Company's core values reflect the town — coastal, relaxed, and constantly evolving. Producing quality beer while embracing community living has been their goal since day one. They have created memorable experiences through their craft beer and lifestyle brand. This place encourages you to slow down, relax, and be where you are. What more could you ask for?
Grayton Seafood Co: This restaurant's friendly and welcoming staff will make you feel at home. It's a perfect stop after fishing in the area, and the wildly popular team knows how to wow diners with their mind-blowing menu. Grayton Seafood is a MUST in the area.
Schools
Grocery Stores
Frequently Asked Questions:
What makes Grayton Beach such a desirable place to live?
Grayton Beach offers a unique combination of natural beauty, a relaxed lifestyle, and modern amenities. The town is known for its stunning beaches, lush parks, and abundant wildlife, making it a paradise for outdoor enthusiasts. Grayton Beach has a thriving arts and culture scene, excellent schools, and various restaurants, shops, and entertainment options.
How competitive is the real estate market in Grayton Beach?
The real estate market in Grayton Beach is highly competitive, with most homes selling within a few weeks of being listed. The town's popularity and limited supply of homes for sale make it a seller's market, but with the help of a local real estate agent, you can still find your dream home.
What types of homes are available in Grayton Beach?
Grayton Beach offers a wide range of homes for sale, from cozy Florida cottages to luxurious beachfront estates. The most popular types of homes include single-family homes and beachfront properties.
Are dogs allowed on the beach?
With a permit, dogs are allowed on the beach beginning August 1st and July 31st each year between 3:30 PM and 8:30 AM. Click here to apply for a dog permit.
*All information provided is deemed reliable but is not guaranteed accurate. Users should confirm accuracy.
---
We are your TRUE local Emerald Coast & 30A real estate experts. Our team can show you any property you find and give you all the info you need, including disclosures, sales history, and local market data.
We are also window-shopper friendly! Who doesn't love to look at houses? Be confident we're not here to pressure you into working with us; you may update your contact preferences anytime. However, registering an account with us allows you to personalize your searches and receive timely status and price change notifications.
Contact Us About Grayton Beach
Consult a True local real estate expert from TrueSouthCoastalHomes.com at
(404) 395-4381
. We specialize in the coastal communities on Florida's Emerald Coast from 30A to Destin and Niceville to Freeport. We are committed to your 5-star experience and finding the perfect home matching your wishes and needs.